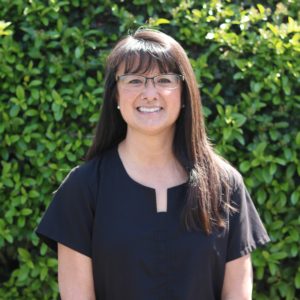 I am a graduate of the Fresno City College Dental Hygiene Program and have been a Dental Hygienist for 35 years.  My experience includes both working in a periodontal practice, as well as in general dentistry.  I was first drawn to this profession after hearing a Dental Hygienist speak on career day when I was in Jr. High.  I enjoy working with my patients, as well as educating them on the importance of good oral hygiene practices.  I was born and raised in Fresno, and I have 3 children -- 2 sons and a daughter.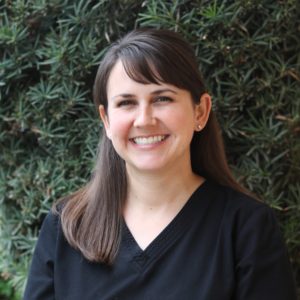 I am pleased to say I was born and raised in the valley.  I received a degree from Fresno City College as I was preparing to attend the dental hygiene program at San Joaquin Valley College, where I graduated in 2008.  A few of my favorite roles on our dental team include educating patients about their oral health and making recommendations to improve.  I absolutely love developing relationships and watching their progress as a clinician.  I have learned much during these 10 years and enjoy continuing my education.
Growing up, in a loving home, my dream was to become a mother.  I am blessed to have a wonderful husband by my side as we raise our three young children, two daughters and a son. Family brings me joy and I'm thankful for a career that allows flexibility to work part time so I can be home to raise my children as well.  I enjoy close relationships with my family and spending time with dear friends.  I love creating, organization, searching my ancestry, baking, music, reading, serving in church and doing Zumba with my girlfriends.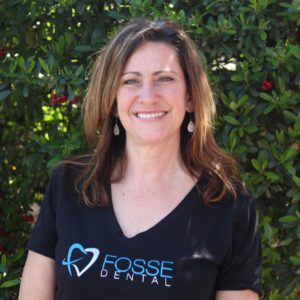 I've been a practicing dental hygienist in the Fresno area for 27 years. I was drawn to dentistry at a young age because of its potential to allow one to interact with, and serve others in a very personal and rewarding way. Providing my patients with excellent care, and coordinating with my work team to create the most comfortable environment possible are some things I always strive to achieve. Being a dental hygienist gives me the freedom and stability to parent my four beautiful children, three of whom are in college and one of whom is in high school. In my free time I enjoy hiking, biking, and spending time outdoors.
Jill Tucker, RDH Registered Dental Hygienist
Jill has been a practicing dental hygienist for years in the Fresno community. She joined the Fosse Dental team in 2018 and we are so happy to have her on the team!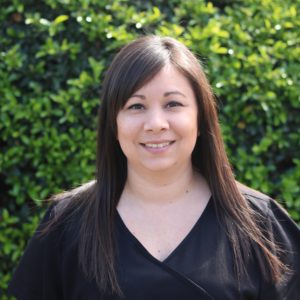 I was born and raised in Fresno, and have been in dentistry for over 10 years now.  In addition to being a licensed registered dental assistant, I have extensive training in cosmetic and general dentistry, as well as removable appliances.  My favorite part about this field is working with my hands and creating relationships with all of our amazing patients.  In my free time, I enjoy being with my family and friends.  My hobbies include watching baseball games, trying new restaurants and babysitting.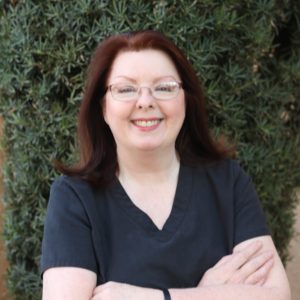 When I graduated high school and began thinking about what I would like to do, I discovered that I really enjoyed bringing comfort to people.  I started in a convalescent home, but later worked with a dentist and found that I really liked it!  I then went on to earn my degree in dental assisting from San Joaquin Valley College, followed by the RDA exam.  I have now been in the dental field for 20+ years!  I find my job rewarding and strive to help my patients feel comfortable.  I've met a lot of really great people -- staff and patients alike -- and have made some friends along the way.
I love all kinds of music and have sang for years on the worship team of my church.  When I have extra time and money, I go to Pacific Grove and the beach. My favorite movies are the Avengers, X-men, etc.  In the spring, I love to plant flowers and then hope they will live!  If you want to be my friend, give me sweets -- preferably cupcakes!  If I had to choose a favorite quote, it would be Psalms one: "Trust in the Lord with all of your heart."  I believe that God watches over me and always has the best plans for me.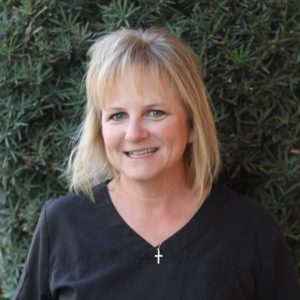 Hi!  I'm Debbie, I was born and raised in the Fresno area.  I worked for 5 years supervising in the field of medical billing and collections before taking a 15 year hiatus to raise my family.  I have been married to my high school sweetheart for 35 years. We have three adult sons and two tiny granddaughters.  When my boys became teenagers I found that working part time in the dental office gave my life more balance.  I have enjoyed working in the front office for 13 years now.  The variety of tasks and opportunity to be helpful to patients in a smaller office is rewarding.  Helping patients become part of the Fosse Dental family brings me joy!  I am blessed to be part of such a high quality team. 
When I'm not working I love being active outdoors.  I try to complete at least one half marathon per year.  I also enjoy camping, hiking, gardening, sailing and reading.  My husband and I began learning to sail six years ago.  We currently have a boat in the San Francisco Bay area.  We have learned sailing in the San Francisco Bay can be a great adventure!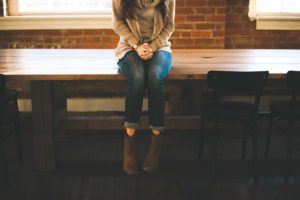 Hi!  We can't wait for you to hear about our new biller, Erin! Check back later 🙂